1967
With Kenneth Rowntree suceeding Gowing as Professor and following Pasmore's departure in 1961, this decade saw the increasing influence of Richard Hamilton in teaching, more emphasis on British 20th century acquisitions and younger contemporary artists' exhibitions.
While Evetts, McCheyne, Holland and Hodgson remained on the staff, others such as Geoffrey Dudley, Eric Dobson, Derwent Wise and later Ian Stephenson took prominent roles.
1967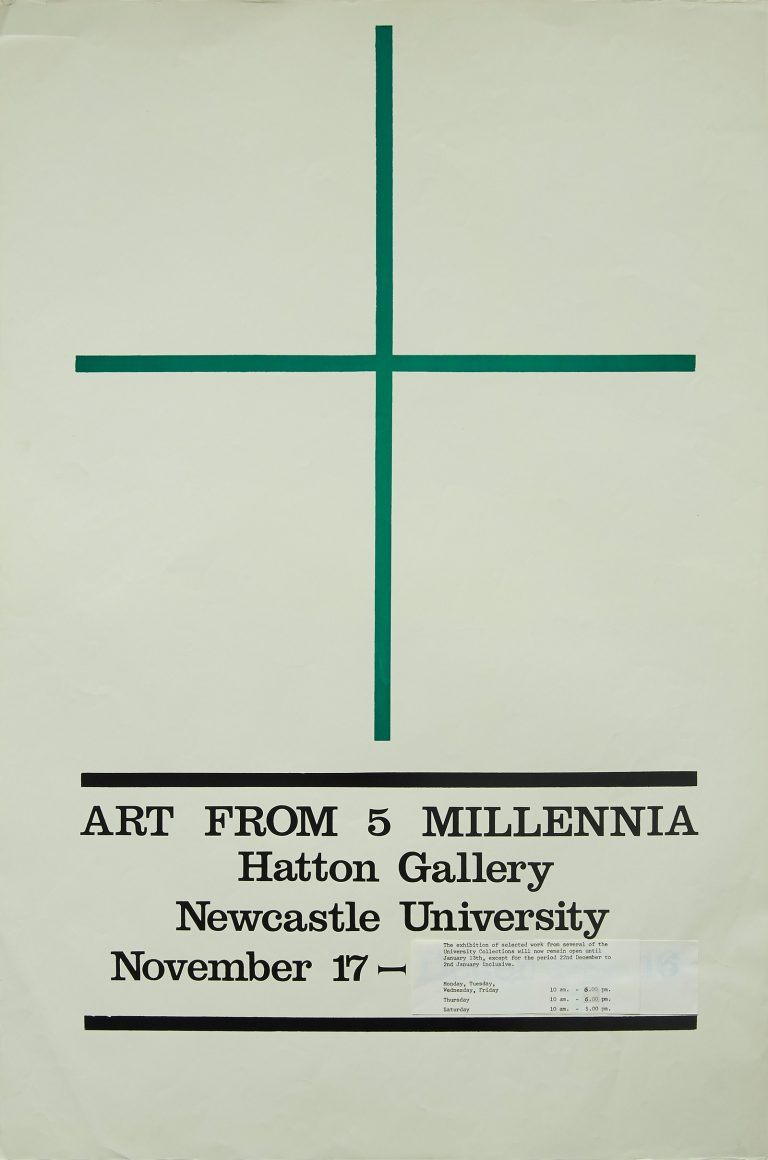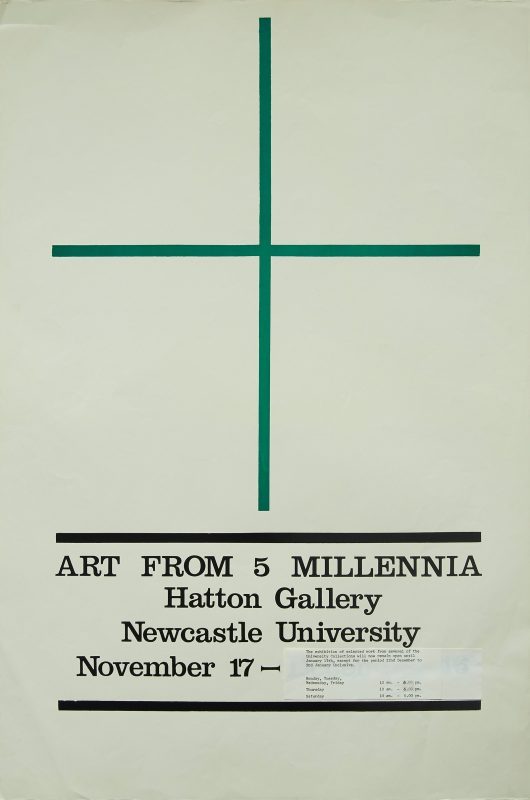 Exhibitions
Marion Richardson

5 April - 6 May 1967
Art from 5 Millennia

17 November 1967- 13 January 1968

Ralph Holland's letter to the Vice-Chancellor

Ralph Holland's letter to the Vice-Chancellor

">

Vice-Chancellor's memo

Vice-Chancellor's memo

">

Art from 5 Millenia catalogue

Art from 5 Millenia catalogue
">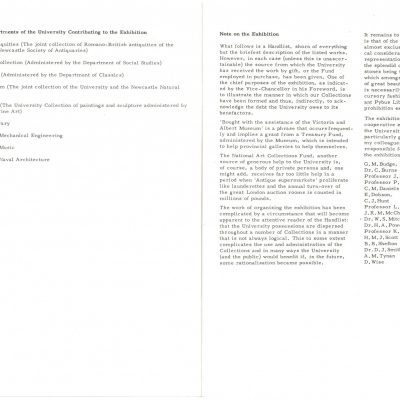 Ralph Holland's Note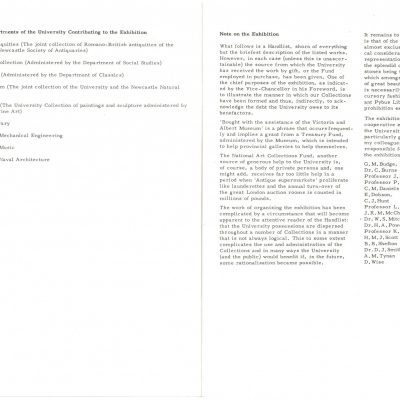 Ralph Holland's Note
1967, Student Summer Exhibition, poster
The 'Op Art' derived poster for the 1967 Student Summer Exhibition is unusual in the image being evidently designed specifically for the poster, rather than an existing piece of students' work being selected.
In 1967 the external examiners were Robert Adams and William Scott, the John Bell Simpson prize winner was Mike Brick and Hatton Scholarships were awarded to Lloyd Gibson and Mali Morris.
1967, Summer Exhibition, press review
Scott Dobson and William Varley's reviews of the 1967 student Summer Exhibition both pick out a number of different artists to mention, and recognise the diversity of styles and approaches amongst the students' work.
1967, Northern Sculptors 67, catalogue
Catalogue cover and page, featuring Geoffrey Dudley (by then teaching at Chelsea rather than Newcastle), for the 'Northern Sculptors 67' competition and exhibition held at the Shipley Art Gallery, April-May 1967. 23 finalists were chosen for the exhibition from 120 entrants, among them were former King's College students Robin Crozier, David Humphreys, Neil Talbot, Matt Rugg and Derek Carruthers (who won one of the prizes) as well as tutors Geoffrey Dudley and Derwent Wise.
1967, Northern Sculptors 67, press review
Sculpture tutor Derwent Wise's success in the 'Northern Sculptors 67' competition is reported here in The Journal. The three eminent competition judges were Alan Bowness, David Sylvester and sculptor Hubert Dalwood, Wise's winning 'White Sculpture' was subsequently purchased for the Arts Council Collection.
1967, Ian Stephenson, studio photograph
In 1967 Ian Stephenson was appointed to replace Hamilton as director of Foundation Studies. Stephenson had been a student in the Fine Art Department between 1951-56. On finishing his degree he was appointed Tutorial Student, then Studio Demonstrator as Pasmore's 'basic course' was being developed 1956-58, before going on to teach at Chelsea School of Art.
1967, Pasmore's murals, press article
Although seven years after having left his Newcastle teaching post, Pasmore still attracted local press attention, though this is towards the 'silly season' category. Pasmore's two murals in the Civic Centre Rates Hall had been unveiled in 1963, in June 1967 an accident prevention display was placed in front of it…
1967, Bryan Ferry's abstract paintings, press review
Recent graduate Bryan Ferry attracted the attention of The Journal with his first public showing of his abstract paintings, though he recognised that finding a local market for such works would be difficult.
1968, Summer Exhibition, poster
Poster for the 1968 student Summer Exhibition.
In 1968 the external examiners were F.E. McWilliam and William Scott.
Letter from Dunstan Skilbeck, 1967
Charles Bosanquet
Unusually this acquisition was partly arranged through Charles Bosanquet, the University's Vice-Chancellor who was in direct contact with Dunstan Skilbeck, the Principal of Wye College in Kent. It is not clear whether the painting came from Skilbeck's or the College's collection, however the University found the requested £200 and then allocated the painting to the Hatton collection.