1952
This long decade marks the tenure of Lawrence Gowing as Professor of Fine Art and the establishment of new and vigourous programmes of exhibtions, acquisitions and teaching.
By 1954 Victor Pasmore and Richard Hamilton were established as members of staff, joining longer-serving staff such as Leonard Evetts, Murray McCheyne, Louisa Hodgson and art historian Ralph Holland.
1952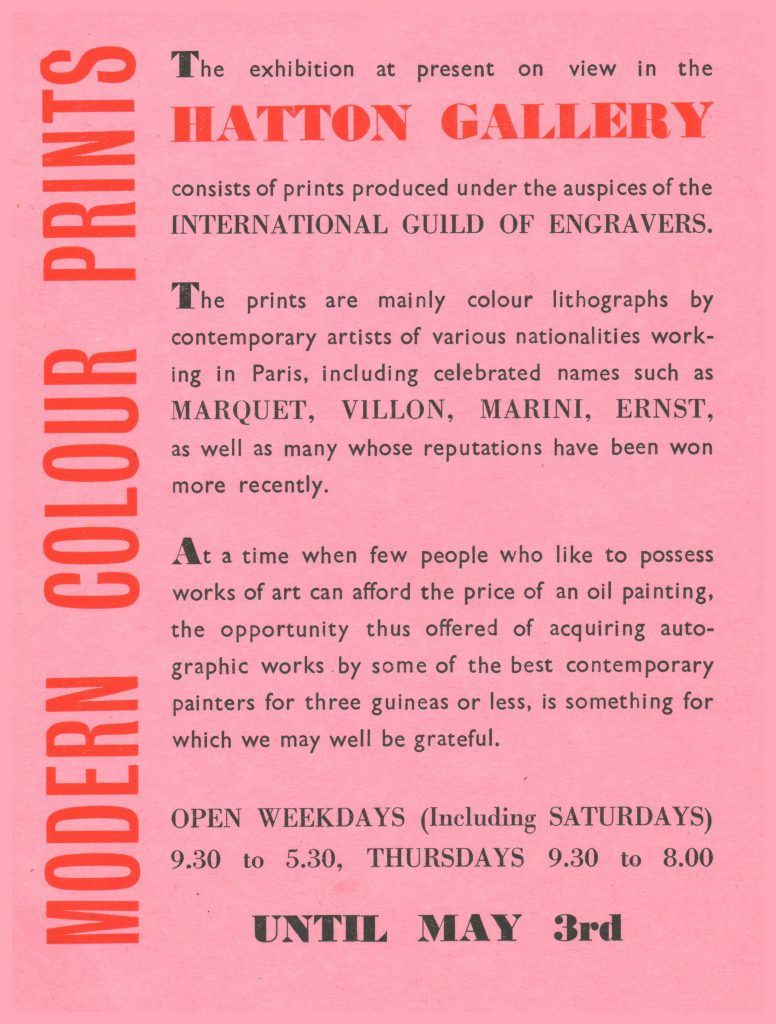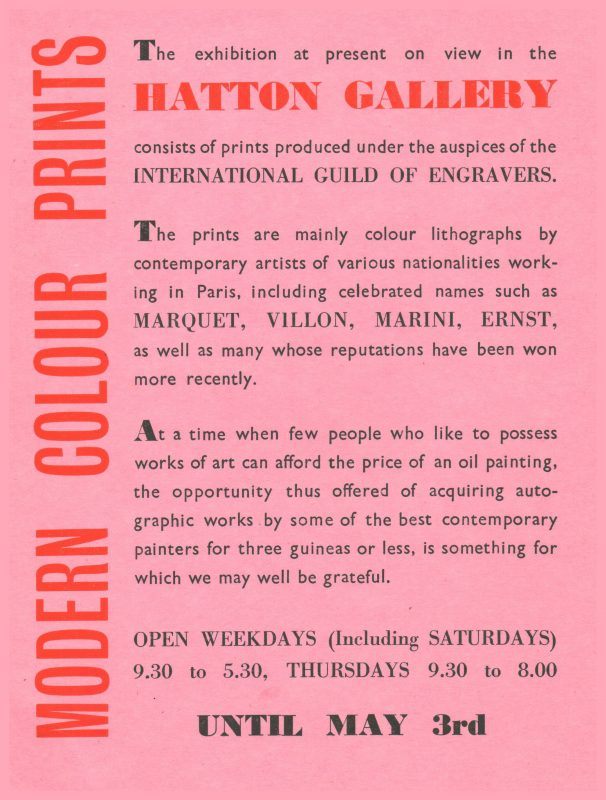 Exhibitions
Gold Medal Layout Competition

12 - 17 May 1952
Colour Prints and Drawings by Hiroshige

24 May - 7 June 1952
Form in Pottery

May - June 1952
Illuminated Manuscripts

May - June 1952
Summer Exhibition, Fine Art Students

19 - 28 June 1952
English Embroidery

Aug - 27 September 1952
Letter to Roderic Thesiger, 1952
Lawrence Gowing
This painting along with the Sabatini and Palma il Giovane, as Gowing's letter suggests, marks the start of his desire to develop a teaching collection for the Department, from which the students could get some real benefit. He used his many contacts in the London art world to source affordable, but good quality paintings. Gowing's early acquisitions used funds from the Shipley Bequest – originally intended to provide equipment and material to the Department.
Pieta, 1550
Lorenzo Sabatini
Lorenzo Sabatini (c.1520-1576) – 'Pieta', c.1550.
NEWHG : OP.0041. Oil on panel, purchased from Roderic Thesiger, 1952.
This is a copy of an earlier painting attributed to Marcello Venusti in The Vatican collection.
St Mark, 1600
Jacopo Palma il Giovane
Jacopo Palma il Giovane (c.1548-1628) – 'St Mark', c.1600.
NEWHG : OP.0021. Oil on canvas purchased from Thomas Agnew and Sons, 1952.
Letter from Colin Agnew, 1952
Lawrence Gowing
Colin Agnew's letter to Gowing explains something of the provenance and the whereabouts of related paintings. The 'St John' he mentions belonging to Peter Lycett Green is now in the collection of York Museums Trust.
Portrait of a Young Man Holding a Statuette, 1575
Bartolomeo Passarotti
Bartolomeo Passarotti (1529-1592) - 'Portrait of a Young Man Holding a Statuette', c.1575.
NEWHG : OP.0046. Oil on canvas, purchased from P&D Colnaghi, 1952.
1960s record sheet for 'Portrait of a Young Man Holding a Statuette'
Ralph Holland
This typical 1960s record sheet is a mine of information and shows that, as with many old master paintings in the Collection, the attribution has changed over time. It was Ralph Holland who identified the statuette being held as being very similar to one in the Edinburgh University collection.