Victor Pasmore (1908–1998)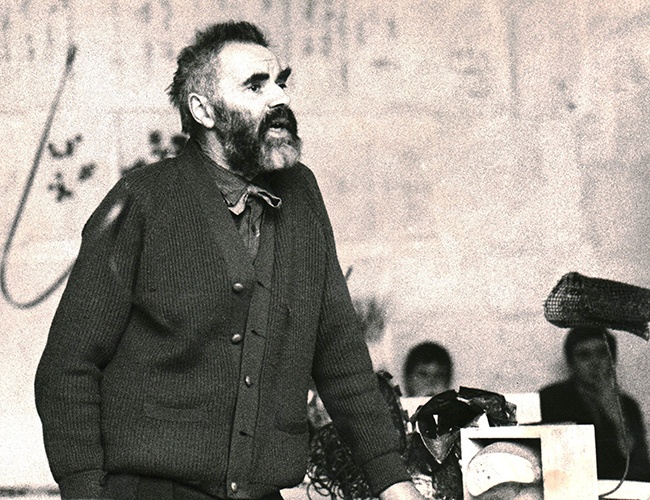 Victor Pasmore was largely self-educated as an artist, though from 1927 until 1931 he attended evening classes at the Central School of Arts and Crafts. In 1931 he began to show with the London Group, and in 1932 he joined the London Artists' Association. Pasmore continued his self-education largely through copying the masters and the Fauve paintings of Matisse and Bonnard and experimenting with abstraction, participating in the 'Objective abstractions' exhibition at Zwemmer's Gallery in 1934.
Larer in the 1930s Pasmore returned to traditional realism, influenced by Sickert and Bonnard, destroying his early abstract efforts and becaming involved with his friends Calude Rogers and William Coldstream in founding the realist Euston Road School. Largely because of the patronage of Kenneth Clark, director of the National Gallery, who undertook to pay Pasmore a stipend in return for paintings, he was able to give up his job with the London county council.
In 1943 Pasmore took up the post of visiting teacher at Camberwell School of Arts and Crafts and continued working there until 1949, after which he worked at the Central School for five years. In 1954 he was appointed Master of painting in the School of Fine Art, King's College, University of Durham, a post he held until 1961. Meanwhile his painting had undergone what many saw as a 'road to Damascus' conversion: Pasmore had 'gone abstract'.
The period 1947 to 1951 was largely transitional, with Pasmore making and exhibiting abstract paintings and collages. Then in 1951 he made his first abstract reliefs, using Perspex and wood, announcing that easel painting was dead. The influential critic Herbert Read called it the most revolutionary event in post-war British art.
As a progressive teacher his influence, combined with that of his colleagues Harry Thubron, Tom Hudson and Richard Hamilton, in developing a 'basic course', changed art education. In 1955 Pasmore was appointed as consultant architectural designer for the development of part of Peterlee New Town, co. Durham, which enabled him to design constructivist art on a scale one could walk through. He also collaborated with Ernö Goldfinger and Helen Phillips on an exhibit for This is Tomorrow at the Whitechapel Art Gallery 1956, and with Richard Hamilton and Lawrence Alloway on 'an Exhibit' shown at Newcastle and the I.C.A. in 1957.