Sir Lawrence Gowing (1918–1991)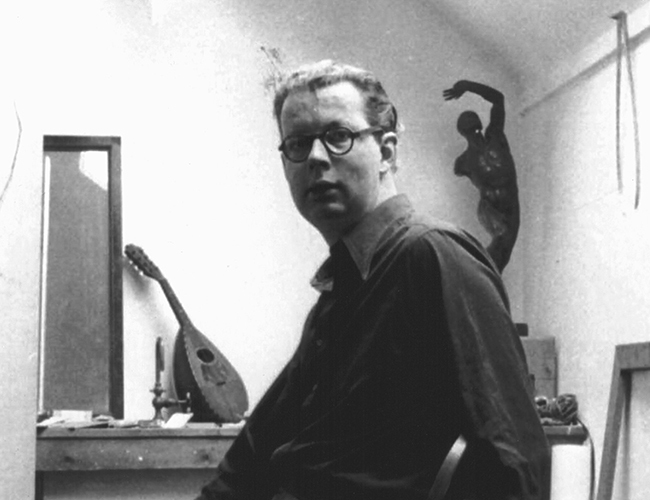 Sir Lawrence Gowing was an important 20th century British painter, art historian, educator and art administrator.
In 1936 the poet W.H. Auden introduced Gowing to the painter William Coldstream, whose pupil he became at 12 Fitzroy Street, London. This became the home of the School of Drawing and Painting, set up by Coldstream, Claude Rogers, Victor Pasmore, and Graham Bell, after moving premisies in 1938 it became known as the Euston Road School.
When Kenneth Clark, director of the National Gallery and also a backer of the Euston Road School, purchased a self-portrait, Gowing's father was persuaded to let him become a painter. The Second World War broke up the School, Gowing's Quaker background and Bloomsbury connections lay behind his conscientious objection, and he was given exemption from service on condition that he continued to paint!
Before the end of the war Gowing started to teach at Camberwell School of Arts and Crafts, alongside Coldstream and Pasmore. A chance encounter with Robin Darwin, then Head of Fine Art at King's College, Newcastle led him to apply to be his replacement and in 1948, aged only 30, he was appointed to the post of Professor of Fine Art, in which he remained until 1958. At Newcastle he oversaw dramatic changes in the teaching of art through Pasmore and Hamilton's 'basic course', as well as leading on the development of the Hatton's permanent Collection and exhibition programme.
In 1959 Gowing became principal of the new Chelsea School of Art, it becoming a model for art education: art history was integrated with studio practice and an option programme ranging across science, music, philosophy, and literature was introduced. Gowing resigned from Chelsea in 1965 in order to become keeper of the British collections and deputy director of the Tate Gallery.
In 1967 Gowing became Professor of Fine Art at Leeds University, where he remained until 1975, when he began a ten-year spell as Professor at the Slade. On retirement in 1985 he went to the National Gallery, Washington, as a research fellow, later becoming a curator of the Phillips Collection. Appointed a CBE in 1952, he was made a knight in 1982. He was elected an associate of the Royal Academy in 1978 and a Royal Academician in 1989. He made three popular BBC television series, Three Painters (1984, 1986, and 1987), on Massaccio, Vermeer, Brueghel, Goya, Matisse, Rembrandt, Turner, Giotto, and Cézanne.