Richard Hamilton (1922-2011)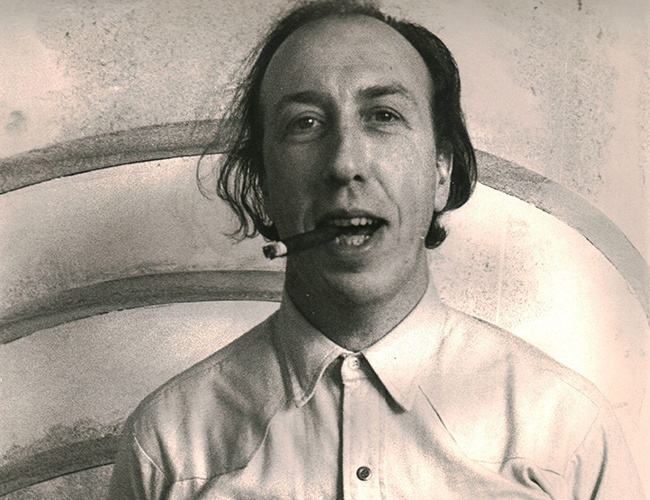 Richard Hamilton was one of the most significant and influential British artists of the twentieth century. Primarily a painter and printmaker, he also created sculptural objects and is known for his early use of 'installation', as well as his work as a designer, writer, curator, and teacher.
In 1952 he was appointed to the Central School of Arts and Crafts teaching a course based on ideas from the Bauhaus which introduced students to the concept of unity between art, craft, and technology. The following year Lawrence Gowing, then Professor of Fine Art at King's College, Newcastle, recruited him to initially teach design. He later developed a 'basic course' for first-year students with Victor Pasmore, remaining on the staff until 1966.
In Newcastle he also helped organise and install exhibitions in the Hatton Gallery, designing and printing the posters and catalogues in house. He was influential as a teacher, particularly  as a conduit for the newest ideas of art, music, and fashion from London, Europe, and the United States.
Hamilton exhibited his own paintings at the Hanover Gallery in London in 1955 and Man, Machine and Motion, his installation of photographs laminated onto Traffolyte sheets within a steel framework, at the Hatton Gallery and then the ICA in London in the same year. In 1957 another project shown at both the Hatton and ICA, an Exhibit, developed alongside Pasmore, proved to be another radical step in exhibition-making.
In 1965 Hamilton was instrumental in persuading the University authorities to rescue Kurt Schwitters's Merz Barn Wall from a decaying barn in the Lake District for permanent installation in the Hatton Gallery. The following year, with the blessing of Marcel Duchamp, Hamilton completed a reconstruction of the older artist's Large Glass in his studio in Newcastle, for the exhibition 'The Almost Complete Works of Marcel Duchamp' at the Tate Gallery in London.
In 1966 Hamilton left his teaching post in Newcastle to concentrate on his own work, and had his first solo exhibition at the Robert Fraser Gallery. In 1968 he was invited by the Beatles to design the cover for their new album. Hamilton designed a completely plain white cover with the group's name simply embossed, and the record became known as The White Album. He continued to be a successful and ground-breaking artist until his death in 2011.