Kenneth Rowntree (1915-1997)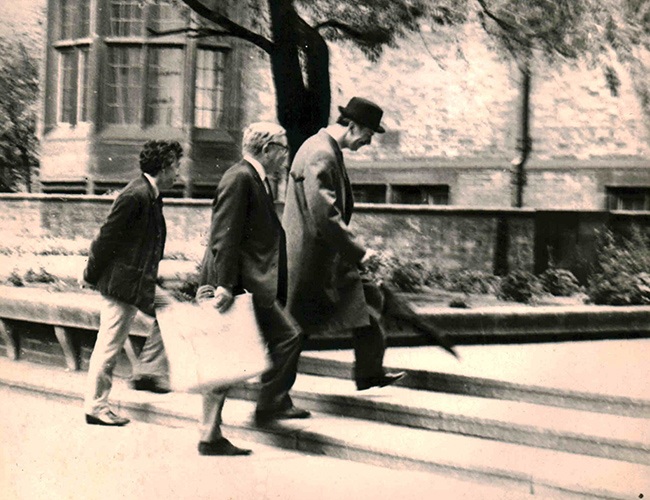 Kenneth Rowntree was born at Scarborough in 1915 into a Quaker family. He trained at the Ruskin School of Drawing, where he was taught briefly by Eric Ravilious, and at the Slade School of Fine Art in London.
Between 1940 and 1943 he was one of more than 60 artists commissioned by the Government and financed by the Pilgrim Trust to record the face of England and Wales before development or wartime destruction changed it beyond recognition. "Recording Britain" covered a total of 36 counties, Rowntree concentrated on capturing the essential character of old buildings and interiors in Bedfordshire, Essex, Yorkshire, Derbyshire and Wales. He also worked as an Official War Artist.
Following his first one-man exhibition at the Leicester Galleries in 1946, Rowntree's topographical interests led him to work on the "Vision of England" series, illustrating the volumes dealing with Norfolk and the Isle of Wight and designing the cover for Sussex. In 1951 Rowntree painted murals for the Lion and Unicorn Pavilion at the Festival of Britain.
After the war he taught painting at the Royal College of Art and then in 1959 he was appointed to succeed Lawrence Gowing as Professor of Fine Art at Newcastle, then one of the most progressive art schools in Britain, where the teaching staff included Victor Pasmore and Richard Hamilton. He held this post until his retirement in 1980, continuing the development of the Hatton Gallery's Permanent Collection and the staging of important exhibitions, that Gowing had introduced.
In the 1960s he collaborated with the architect Erno Goldfinger on coloured-glass screens for the entrance halls of the Ministry of Health building at Elephant & Castle and was also a member, together with Quentin Bell and Claude Rogers, of the committee set up to look into university applications in fine art.